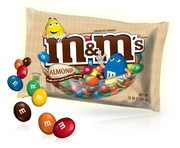 Almond M&M's were first produced on July 10, 1988. They were originally only available during Christmas and Easter, but soon enough, they were available all year long. They are similar to Peanut M&M's, but with Almonds. Blue is the for Almond M&M's. After The 2011-2012 Re-Design, Almond M&M's were only available in larger bags. In Summer 2012, Almond M&M's were available in "Sharing Size" Packs, and still are available today. It is unknown why the single packs were discontinued, but many people think it is because they were not popular enough.
General Information
Spokescandy: Blue
Colors in the bag: Brown, Blue, Orange, Red, Green, and Yellow
Nut allergy concerns?: there are Almonds in these, which are types of nuts
Bag color: Tan
Gallery of Wrappers
Here are some different designs for the wrapper of Almond M&M's. (click on the pictures to view them full size)
Community content is available under
CC-BY-SA
unless otherwise noted.