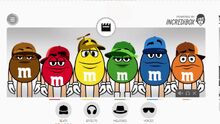 Bite-Size Beats (bitesizebeats.com) was a website created by M&Ms and Incredibox. It advertised M&M'S by having an M&M version of Incredibox featuring the colored M&M people as the singers. Some people could choose if they want to upload, just like Incredibox. If one were to become famous and appealed to the M&M Company, the artist would have a chance for their creation to be on an M&M'S ad.
Jessie J
While the original was revealed in March and the partnership would've ended in July, sometime in the middle of July the deal was extended until August, with the website updated to also unveil the song "Real Deal" from Jessie J's fourth album, R.O.S.E.. There was also a combination the player can discover by adding multiple sounds that would sound like the snippet. The song as an animated bonus made like a short video clip featuring Jessie J, Red, Yellow and Incredibox's avatar once revealed. The lyrics in the snippet are shown here:
Get down
Fun up
Feel good,
Oooooh
Always fun in summer!
Discontinuation
For now, there is no information telling us exactly how long until we see the domain being used and the advertisement being revived. You can follow this link here to view the original Bitesize Beats, the version featuring Jessie J, and the Axe Boat festival all archived and playable. DISCLAIMER: There is no online connection and thus you cannot share your songs using the website.
Community content is available under
CC-BY-SA
unless otherwise noted.