blue Man Is an M&Ms Commercial Where Blue Joins The Blue Man Group. This Commercial was apart of the "Reunite M" Series of Commercials, and one of the few commercials to have Blue as the main Spokes candy.
Script
Blue: Look, I'm done being an M&M's spokes candy.
Man: Mr. Blue.
Blue: Yes. I've got a new gig now, and it's a perfect fit.
( drum playing )
( crowd cheering )
Voice: The M&M's split up. Reunite 'em by looking under the wrapper, and you can win $100,000.
Commercial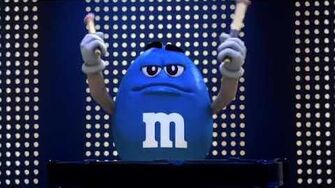 Community content is available under
CC-BY-SA
unless otherwise noted.