Welcome to the M&M's Wiki! This wiki is about the candy that has been created since 1946!
Before going elsewhere on the wiki, read the Rules so you don't get punished!
After you have read them, you can continue onward with your adventure.
We currently have 150 articles, but you're welcome to add more if something new is announced!
Need help navigating the wiki? Have a question about some information? Problem dealing with other users? Feel free to talk with the active bureaucrats Famouslogos9098 and NoahAlexanderJohnson101, or with our active admins: JasonVoorhees1234 and Dastardlydoomy. Post on their message wall and they will reply as soon as possible.
M&M's News
The recent wiki activity has been removed and cannot be viewed, but use this link to see.
As I am currently being inactive, please welcome RockoGuy991 and Views06. If you are needing help please consult them instead. Thank you. Famouslogos9098 (talk) 03:45, January 27, 2019 (UTC)
We are in a desperate need of cleanup! If you are a M&M fantic and you are able to know all about the current pages we have, please help us! Famouslogos9098 (talk) 03:45, January 27, 2019 (UTC)
Page of the month and Off Topic Videos
2nd MONTH CHOSEN!
Red
is the main M&M's character. He appeared on a lot of M&M's bags. When Red was first made, he was a human with an M&M as a head. He was made in 1941.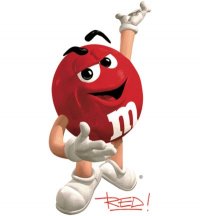 Off Topic Videos, THE RETURN! (daily)
SEE THE NEXT 2 VIDEOS DAILY!