Jurassic World: Dominion Dominates Fandom Wikis - The Loop
Play Sound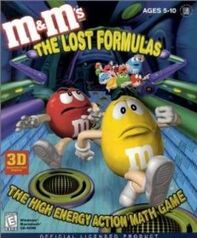 M&M's: The Lost Formulas is the first M&M's video game and was released on September 28, 2000 for computers such as Windows 95, Windows 98, Windows XP, and Macintosh by Simon & Schuster Interactive. It is a Crash Bandicoot style game, and also is optionally a game which teaches math.
The game was released for the PC in September 28, 2000, PlayStation in December 1, 2000, Nintendo 64 in December 28, 2000 (Japan) and early 2001 (International) and Nintendo GameCube in late 2001.
Gameplay
Yellow is the only playable character. There are three zones on each levels, the start zone, math zone, and the end zone. Math zone is simply start/end zone only with math problems, with difficulty of the problems slightly progressing as the levels grow higher. The game has a total of 8 levels.
Reception
The game was criticized for being based on a candy product, and for being incredibly similar in gameplay to Crash Bandicoot in adventure mode. Its "Math Mode" was praised for having fun features, but not so much having problems as much as having math facts. It was also criticized for being too easy on higher difficulties. However, critics did praise the high-quality graphics and controls of the game. It's considered the best of the M&M's games.
Levels
Level 1- Get Out Of Town
Level 2- Milk Chocolate
Level 3- Oh Chute!
Level 4- Candy Colors
Level 5- Stampin' and Sortin'
Level 6- Pack It In
Level 7- Warehouse Woes
Level 8- The Shocking Truth
Level 9 - The Vacation (Nintendo GameCube only)
Bonus Levels
Ride the Rocket (Blue Formula After the Start Zones of Levels 2, 4, 6, and 8)
Robot Stampede (Brown Formula After the End Zones of Levels 2, 4, and 6)
Pipe Down (Yellow Formula After the Start Zones of Levels 3, 5, and 7)
Track Trouble (Red Formula After the End Zones of Levels 3, 5, and 7)
Pipe Up (Pink Formula after the End zone of Level 9) (Nintendo GameCube only)
M&M's console main series games